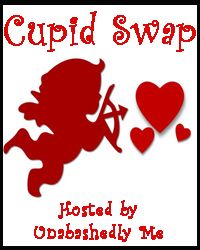 I was excited to participate in my first blog swap over Valentines! Thanks to Micah at
Unabashedly Me
for hosting this swap!
I got my package last week and much thanks to
Leah
for all the fun goodies! I was so excited to see all the fun stuff! Stickers, hair ties, a balloon which I meant to blow up but forgot, and Kisses! Who doesn't love Kisses? The Rangers stuff was perfect!
My absolute favorite are the bottle cap magnets! First they are right on the money with the themes! Second...how cute are they?
This set fo 2012 playoff glasses. I hate to admit that the 2012 playoffs actually ended so fast, I didn't even get anything from that game. This was totally needed!
A purple sparkly purse/wallet which I will be using when I have funky places to go! (Hint to my friends, let's go somewhere funky!!)
Awesome nail files because you would be surprised how you need these and they are never around, or is that just me?
Everything was just so cute and fun!
I think I pretty much rock this penguine sleep mask....I don't know, what do you think? (No make-up on here so give me a break....it is daring and unconventional to post a no make-up photo without being at the gym!)
I got to shop for
Heather
at Beyond the Aisle so check out her blog and see what fun I had shopping!
This was a truly fun experience and I can't wait to do it again.
Simply,
Laura